Pictures stolen from Russian actress and TV presenter Victoria Bonya (aka Bonia)
http://persona.rin.ru/eng/view/f/0/36519/bonia-victoria
mila388@yahoo.com
68.142.206.240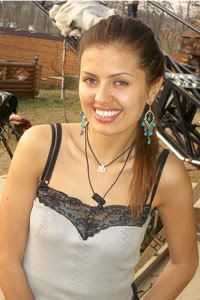 Hello!!!! Have a good day. I do hope you remember me because I wrote you recently and you replied to me.
I have met you on a dating site. I am sorry that I couldn't reply earlier.
You see I live in Russia and I was busy arranging all travel
preparations . I was in Moscow to book my interiew for the trip to the USA, it took
almost two weeks to travel to Moscow and back. You know that it is my first time I try correspondence with
a man in a virtual space.
I am not a very good user of the Intenet and I do hope that I will be lucky to
meet a good man.
I guess I need to explain why I do it.The thing is that I will work abroad for
three months or so and I would like to meet a nice man
to be my guide or just to be a good friend to spend time with while I am there. I suppose
it is hard enough to live in some foreign town without friends and besides I have never been
abroad. You know I've been liviving in a small town here in Russia all my life and I am just
afraid to be lost.
Besides I would like to see a real life (not some TV shows) and it is
impossible to see a real life without a person who knows all sides of the life. And you should also know
that I don't want to live in
Russia because I don't have any chances here, it is hardly
possible to explain in a few words but I want you to know all my
plans. While being in the USA I will be working in
any shop or be babysitter in some family. I will know the details later. Besides I love English language
and being in the English speaking country, it will give me a chance to improve my English.
The agency helps me to get the visa, work permission and all travel
documents and they will
help me to get a job. It is their business and I will pay for their
service. One of my friend worked in USA for three months last year,and she was so
pleased and she is going to repeat this trip again.
She has met right man in Chicago and they are good friends now and he
is going to marry her if everything is all right between them.
I am coming to the USA or Canada due to the special programm for young people who want to work
abroad and I think it is the right
way for me. I am lost here, and hopefully I will be able to change my life.
I am full of plans and different dreams. You should know that I have dark brown hair
and brown eyes. I am sure that you will be not disappoined to
meet me in
the real life if we meet. At least I hope so.
Well,I am finishing this letter and I do hope to get your reply pretty soon.
Maybe after reading my letter you will find me a little crazy but I am not sure I know the
right way
to meet a good man without real meeting and you know it is my
first try through the Internet.
I will leave my town in a few days or so to fly to Moscow again to
complete all the things. It is said at the agency which arranges the trip for me that
I will work all day and I think we might share
evenings together to get to know each other better. If you have any interest to meet me
I will be
more than happy!!!
I just don't want to be alone in the evenings, and I would like to be sure
in advance that somebody waits for me! It is just a woman wish!
I will tell you all the details about me and my life. If you're also single, you may be with me for a few
months or so .... Who knows???!
With best regards from Russia
Julia ( this my name )
PS I have attached photos of me so that you could have a better idea about me.