Cherryfun.com is a smaller, free dating site that is full of fake profiles and scammers.
The profiles are full of familiar faces, and bodies. Lot's of West African scammers with stolen pictures, some 'Russian', and probably some Filipino scammers in her as well.
I don't see any reason for a normal person to use cherryfun.com, but baiters may have some fun, here.
You have to love some of the 'featured ladies'.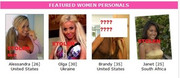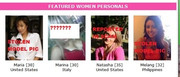 And yes, the male profiles are equally fake!