Pictures stolen from Svetlana Ivina:
RPO-->> vk.com/svetochkahoroshaya
My first report....
email is from Reply-To-Field
From: was ***********@m6.gyao.ne.jp
Subject: Ich werde jeden Tag, mein Prinz Sie schreiben!
Textbody:
"Hallo. Wie geht es dir? Was ist Ihre Stimmung? Ich ware froh dich besser erkennen. Ich suche den richtigen Person online fur die langfristigen Beziehungen. Ich habe den Wunsch, dich kennenzulernen.
Ich die freie Frau, und ich habe keine Kinder. Ich heisse Katy. Ich bin liebenswurdig und friedlich Person. Ich denke, dass Sie nicht der vulgare Person. Und Sie wirst die vulgaren Bilder nicht erbitten.
Ich glaube, dass Sie der wohlerzogene Mensch. Wenn Sie unsere Bekanntschaft entwickeln wirst, so werde ich Ihnen ausfuhrlicher von mir erzahlen. Mir ware es wunschenswert, dass du grosser von dir auch erzahlt hast.
Was ist Ihr richtiger Name? Wo kommst du her? Wie alt sind Sie gereist? Mir ist es interessant Ihre Bilder sehen. Bitte, sende mir Ihre Bilder. Ich werde Ihre Antwort mit Ungeduld warten.
Deine neue Freund Katy."
Obvious IP: 188.162.43.62 (spamcop.net does not trust) Yoshkar-Ola, Respublika Mariy-El, Russia, PJSC MegaFon yota.ru
Maybe real IP: 202.238.84.208 So-net Entertainment Corporation Japan
Main picture found here: Yulya Manulova vk.com/id209977804
seems to be an amateur body builder poiskvk.org/profile.php?id=14081682&page=2 (site that exposes private vk-pics)
Same girl, different pose: Svetlana Maslova girlswithmuscle.com/272645/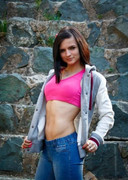 Second pic also from vk: Olga Smirnova vk.com/id178637259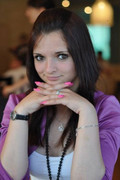 3rd pic I could not find a source ...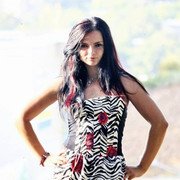 So, pics are from Russian girls,
text looks like bad automated translation from English, (Russian-> German looks different)
server used maybe from Japan,
but reply-To is Russian address.