carrier123
Gender: Male
Age: 49
Sexuality: Homosexual
Looking for: Serious Relationship
Country: United States
State, City: 0hio
Marital status: Single
Children: I have 1-2 children living elsewhere
Religion: Christian
Education: Masters Degree
Occupation: contractor
Ethnicity: Mixed
Personal Description:
Im' outgoing, good sense of humor, love to cuddle , nature walks, and dance. I like to make people smile. Getting tired of being alone because it is no fun at all. ops: Just a good woman who wants to be loved for the person that i am.
207.244.86.213 .....
from the Bad IP-List here

Leaseweb USA, Inc.
OrgId: LU
Address: 9480 Innovation Dr
City: Manassas
StateProv: VA
PostalCode: 20109
Country: US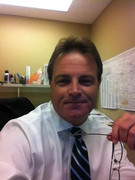 Email & Pic give a Hit in FB for Joseph Mathew Carrier from Ohio City, Ohio
facebook.com/joseph.carrier.393