.... continues from here:
https://www.romancescam.com/forum/viewt ... 1&t=133756
.... how expected ....
..... Horse with ho Name
Thanks for your mail.
Like I said my name is
Nancy Cumba
. i am 25 years old. Am tall and fair in complexion, Very good looking girl that is very sharing, giving, caring and loving girl, above all God fearing and trusted.I really want have a good relationship with you.A relationship of deep feeling that will construct a mutual understanding ,I'm from Bamako Mall west Africa and presently I am residing in the refugee camp here in Lome togo as a result of the civil war going on in my country.My late father Dr Cumba sumah was the personal advice to the former head of state of bamako mall before the rebels attacked my house one early morning killing my mother and my father.It was only me that is alive now and i managed to make my way to near by country togolese where i am living now in a refugee camp.I would like to know more about you. Your likes and dislikes,your hobbies and what you are doing presently. I will tell more about myself in my next mail.
Attached here is my picture.
Hoping to hear from you soonest.
...... IP shows Google
mi-1.jpg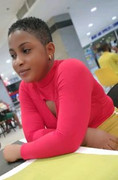 mimh.jpg