... slowly it would be interesting to know how she comes to this "italian" Emailaddress ...
and who's carina
Hello xxxxxxx
Every Your letter makes me happy especially! Every day I look forward to your letter. Your letters are a breath of fresh air.
I want to share with you the great news my dear, please rejoice with me. Today I was In the social Service for the support and protection of orphans, where I was told the good news; I was included in the list of recipients of a new one-room apartment in a new comfortable house. I'll be living in my apartment soon. I've been living in a Dorm room for over six years.
The hostel is a shared toilet, a shared bathroom and a shared kitchen, as well as a small room with good hearing neighbors. According to the law of our country, as an orphan, I am entitled to my own apartment in an interest-free Mortgage. Social service support and protection of orphans for several years promises to give me an apartment, and several years pulled this process. But still they kept their promise, soon I will have my own home.
But I'm also happy that I'm going to Your country soon and we'll have a chance to meet. Do you want to continue our acquaintance in real life? Do you really want a real meeting? I Am! In the last letter I forgot to ask your contact, except I know Your email address I know almost nothing.
Perhaps the girl should not ask for the phone number. But I would like to know your number to be able to make a quick connection.
Still taking advantage of an opportunity I want to ask: what is the nearest airport to Your city? I hope this doesn't seem too Intrusive.
My dear, it is a great happiness for me to travel to Your country, it is a good opportunity to discover many new things for myself. It means opening the door to a new life, maybe even changing your whole life and starting over.
I am very interested to know your culture, traditions, customs, history and modern life style. And of course, to improve my language experience, which will be useful for my future work. It will be my great pleasure to meet Your country! I am very interested in everything in Your country.
We could take a lot of pictures together, then look at these pictures and have a nice nostalgia. Please understand correctly, I do not need expensive restaurants and luxury gifts! I am a simple and humble person. I am not whimsical or capricious, for me happiness is measured not by money, but by kindness and love, love and happiness can not be bought. I don't run for wealth and luxury! I will not throw myself at the feet for material gain!, You know my dear, I'll tell you sincerely, I just want to be happy, I want to meet true love. I want to love and be loved by a woman. I am monogamous and can only love one person! I am a loyal and faithful person, I do not like cheating and deception. I don't want to deceive anyone and I don't want to play silly games with feelings. Our life is very short, that would spend it on empty games with feelings! So I'm totally serious with you, totally sincere with you.
Please tell me; what need would You be completely happy? What do you think about before going to sleep? Please tell me again, because I want to hear these words again and again:) do you really want me to come to you?
Now I will finish my letter.
At the end of my letter I want to give a spark to the flame in your heart.
Good luck and have a good day to You, your relatives, your loved ones
With impatience I shall wait for Your letter. I'll miss you and think about you all the time
With deep respect and trust Anastasiya
Received: from [192.168.0.54] ([77.40.41.39])
Date: Wed, 8 May 2019 17:36:41 +0300
From: Anastasiya <
ragazzaaacarinaaa@gmail.com
>
MARI-VOLGATELECOM
dialup&wifi pools
Vasiliy Golovin
VolgaTelecom Mari El branch
Sovetskaya 138
424000 Yoshkar-Ola
adasdasdas6dsfsdfds.jpg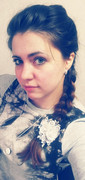 sadas6sfsd.jpg