..... from my MBN-Spamfolder today.
Hey. My name is Olga. I am 29 years old and I live in Russia.
I am sociable, intelligent, with a kind heart and a great sense of humor.
I want to find my love and start a family! I look forward to seeing a bright man to share
life is with him! I am open to new things and new acquaintances! Perverts and crooks do not write to me.
I am only interested in a serious relationship! If you are serious, I will wait for your answer.
Received: from 178.176.174.181 (Unknown [178.176.174.181]) .....
its Yola
Reply-To: tainstvennyj <
olganospolkanos@gmail.com
>
From: tainstvennyj <
info@finfundas.com
>
Date: Sat, 9 Mar 2019 23:25:27 +0300
X-Mailer: Microsoft Outlook Express 6.00.2900.5931
PJSC MegaFon
41, Oruzheyniy lane
127006
Moscow
RUSSIAN FEDERATION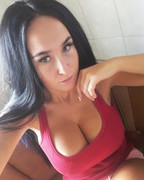 Аня Броварская ( Кошечка )
http:/ /misvk.com/brovary/anya-brovarskaya
.instagram.com/anna_brovarska/
https:/ /vkfaces.com/vk/user/annet19brovarska
https:/ /vk.com/annet19brovarska ---->
7290 Pics
https:/ /fotostrana.ru/annabrovarska/albums/#!