.... from my 419-Spamfolder today, very strange Mail ..... I've really doubts if this 2 Clips show one and the same person ..... one Clip is a Loop ...... I miss her Piercing on the nose and her Eyebrow are different
I love to spend time with my friends and family. I love to travel and salsa or sensual bachata dance. I'm into yoga, coffee lover & have a big heart for animals. Everything I do in life is driven by my passion: my career, my diet, my hobbies, etc. I am an easy going and laid-back girl who is ambitious and family oriented. I enjoy traveling, live music and good restaurants. I am athletic, caring, easy to get along with, fun, exciting, honest, confident, affectionate, love to go out have a good time. It would be really nice to meet someone special. I am a loving, caring, beautiful and smart woman looking for a kind-hearted, loving and intelligent man to build a wonderful chapter of our lives. I am a happy, kind and positive soul who aspires for the best and hopefully the best that I will share with someone special. There is so much to this life to be happy for and so for me, it is important to always remain in high spirits regardless of your circumstances.
I have the opportunity and desire to call you, for this I need to know your mobile number, tell me the time in which you will be comfortable talking to me!
I didn't write a lot in this E-mail just want to see if the E-mail communication works.
Cheers
Regards
Received: from ns100521.ip-147-135-11.us (EHLO [10.19.1.59]) ([147.135.11.223])
Date: Fri, 12 Apr 2019 18:30:47 +0300
From: "
svet.msl@yahoo.com
" <
svet.msl@yahoo.com
>
OVH US LLC
OrgId: OUL-16
Address: 12110 Sunset Hills
City: Reston
StateProv: A
PostalCode: 20190
Country: US
IMG-33.jpg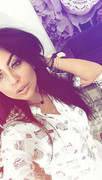 47ca7943-9a9c-438e-ad4d-d72db55c5fab.mp4
http://sendvid.com/ir5fyhnk
MP4_33.mp4
http://sendvid.com/qb2it8ez
.... Pic and Loop MP4_33 are one and the same Person
.... reported with two other Pics and confirmed as Scammer.