..... from my DMF-Spamfolder today ... she knows me but I don't know her ..... for Spam unusual.
xxxxxxx, I have received from you,
"invitation to dialogue."
I was pleasantly surprised by your letter.
How did you receive my e-mail address?
I would be interested in intercommunication with you.
I'm sorry, I deleted your letter,
but I kept your email address.
I attached you my photo. If you are interested,
I expect a letter from you.
I love new acquaintances and love to make friends.
I would like to know more about you.
And may be meet in future.
Snezhana.
Received: from [5.61.44.150] (helo=PC3776363) by desk-60.cafeintercafe.com with esmtpsa (TLSv1.2:ECDHE-RSA-AES256-GCM-SHA384:256) (Exim 4.91)
From: Snezhana <
irkutsk@cafeintercafe.com
>
Reply-To: Snezhana <
snezhanaibusheva@yandex.com
>
Date: Tue, 11 Jun 2019 11:28:04 +0300
ISPIRIA Networks Ltd
Frankfurt am Main
Germany
img-50.jpg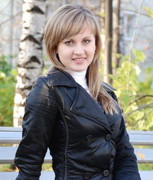 .... she's wellknown in the Scene under diff. Names (also with naughty Pics) and posted elsewhere on different scam baiting sites.... seems that she send also naughty Videos out ....
..... possible this is the RPO but we need more Evidence:
Мария Федотова/Maria Fedotova from Yola
https:/ /vk.com/id37662416 ..... 55 Pics