.... from my MBN-Spamfolder today.
Hello! My name is Svetlana. I from Russia. I like your profile, and I think that I want to know you better. If you have desires to continue our acquaintance, will be glad to your answer. I will wait from you for the letter. After that I will send to you of more photos, and I will tell in detail about myself. I wait for an early reply. Svetlana
Received: from philip.lunariffic.com (philip.lunariffic.com. [216.97.237.203])
Date: Sat, 13 Jul 2019 18:24:16 +0800
From: starcelestial <
starcelestial@yandex.com
>
Reply-To:
starcelestial@lavelave.com
ADD2NET, Inc.
OrgId: ACIDL
Address: 1908 N. Enterprise St.
City: Orange
StateProv: CA
PostalCode: 92865
Country: US
SCSSC.jpg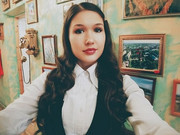 ....
RPO is famous Videoblogger Камилла Терминатор/Kamilla Terminator from Inta
https:/ /vk.com/id532480465
.youtube.com/channel/UCC2UC41bN0_VdQ7R82r06EQ
.donationalerts.com/r/kamilla_terminator ...... collect Donation and is just now online
https:/ /ruclip.com/rev/kamilla+terminator/