Love, it looks like I can't come to you.
Hello my love xxxxxx. How are you? My mood is terrible. Today I had a very difficult day.
My love, I have some bad news for you. I don't think we can meet as planned. All documents are ready, tickets are paid, but I have one problem. This morning when I woke up I saw two SMS from the Bank about withdraw cash from my card. In the SMS it was stated that my bill shot about 1500$. I didn't withdraw the money from my credit card and thought it was a mistake. I called the Bank right away. The call center operator told me to come to the main office to get full information. I immediately went to the Bank. When I came to the Bank the Bank Manager checked and said that at 03:51 am my card was used twice in one of the ATMs of my Bank to withdraw money. I said that at night I slept and could not use my credit card, this is some mistake! She showed me my account statement on the computer and told me to go to security to clarify the situation. There was a queue of 8 people in the security office. From conversations standing in a queue of people, I realized that I am not the only victim that night. Everyone had a similar situation. Everyone lost money from their card last night. Everyone was outraged and did not understand what was happening.
I waited my turn for about two hours and went into the security office. A man from security told me I was a victim of cybercriminals. He explained that the attackers made duplicate cards and used them. That the security service looked at the video surveillance cameras at the ATM used by fraudsters and gave all the information to the police in order to arrest cyber criminals.
I was told that the Bank understands - I am a victim of a situation. They know I didn't use my card last night. The Bank's security service said that I should not worry and the stolen money will be returned to me and I need to fill out an application for theft of funds. While I was filling out the papers in the security office I received an SMS about blocking my Bank account. I was shocked at that moment. I asked why this was happening to a security officer. In response, I heard that the account was blocked automatically during the investigation. That this is done at the request of the police and the laws of the Russian Federation clearly regulate how the Bank should act in such a situation. I asked if I could withdraw the remaining $ 8,700 from my account now through the Bank. A security officer told me that unfortunately this is not possible at the moment. My account is completely blocked for financial transactions. I won't be able to use my Bank account for 30 days. I will not be able to withdraw, transfer, or make any payment. I am still shocked by this situation.
I tried to explain that I need to fly out of the country soon and I really need the money. In reply I heard from the security officer "Unfortunately we can't help you". He said it as if I wasn't a human being to him but some servant.
He showed me the official paper from the police. In this moment I understood that affected more than 8 people. I didn't even find my name on the list right away. There were more than 40 people on the list. I asked how long my account would be blocked. The man from the security service told me that according to the legislation of the Russian Federation, the Bank has no right to delay the funds for more than 30 days. I said I don't have 30 days. And again heard his cold "unfortunately we can not help You." That phrase is still in my head. I asked if it made sense to go to the police to have my account unblocked as soon as possible. A man from the security service told me that such incidents were earlier and the Bank received an official paper from the police up to 30 days. He said the only thing you can do now is wait 30 days. Now I have to wait about 30 days for the Bank to unlock my account and I can use my money.
Unfortunately it is the policy of the Bank on a warrant from the police. And I can't change that. Now my Bank account and my credit card is blocked and I cannot pay the remaining money to the travel Agency. The problem is that you need to pay the Agency about $ 400 to pick up all my ready documents. I've already paid for tickets and health insurance. I have some cash, but it's not enough to pay the balance to a travel Agency. I'm very upset right now. I'm afraid I won't be able to come to you because of that I don't have the money to exist. I did a lot for our meeting, spent a lot of money. I don't know what to do now. I called my friends to borrow money to pay for the travel Agency, but unfortunately no one can help me with this because it's the holiday season and everyone has already planned their expenses. I'm sure it would help if I had the money. But this situation with the Bank happened at the most inconvenient time for us.
I have already paid for the tickets and will not be able to refund or reschedule the flight. I don't know who else to ask for help. My love is xxxxxx, I don't know what to do and I'm ashamed to talk to you about it. But I have no other way out of this situation now. My love, I want to ask you.
Can you lend me $ 436 to pay the travel Agency and come to you?
I'll give you that money back when my account is unlocked. I'll send you a picture of my Bank so you can see for yourself. I have money, but I can't use it for 30 days. My dear xxxxxx, I do not know how you will respond to my request, but I hope you will understand me correctly. I'm completely shattered right now. I really want to fly to you as planned. We dreamed so much and thought about our first meeting that now my heart is torn apart. I want to cry at the thought that we won't be together as we wanted. But most importantly, I'm afraid of losing my plane tickets. I'm sure you care about me. I hope this meeting is as important to you as it is to me.
P.S. My love, I will wait for your answer. Write to me as soon as possible.
With love, Your Viktoriia.
...... delivered over Yandex/Moscow
IMG-4434.jpg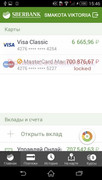 ...... WLAN & no SIM-Card
..... interesting when one compare the Internet Sberbank Pics with this Pic .... in the Pic all in russian Language but the Headline in english .....
..... lets wait an see
what and if
Sberbank will tell us something to this Pic