...... she appeared today out of the blue in my DLB-Mailaccount, don't know her.
Hello. I would like to know you a little better. My name is Anastasia. I am 30 years old.
What is your mood today? I hope you are fine. I hope that our dialogue will be interesting. Write me and I will tell you more about myself.
Received: from [10.8.8.21] ([185.169.255.76]) ......
UK-Proxy
Date: Fri, 19 Jul 2019 09:05:54 +0100
From:
bon614200@gmail.com
NORDVPN-L1
TEFINCOM S.A.
Sandra Gina Esparon
50th Street, Global Plaza Tower 19th Floor, Suite H
Panama City
Panama
DSC-899091.jpg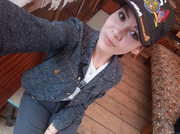 DSC-8999011.jpg