..... from DMF-Spam in german.
Hi!
I want to meet you.
I am Irina and I am a free woman.
I live in Moscow, Russia.
I liked to meet a decent, sincere man.
It has been very happy if you were tell me about your life!
I'll send you my photo, pleases you? where are your photos Was I like to see!
Write me dear, I'm really happy! Answer me this e-mail address
qsolias@gmail.com
!..
Yours pits Irina.
Received: from [109.224.36.19] (109.224.36.19)
Reply-To: Irina <
j@mail.com
>
From: Irina <
tziao83@tim.it
>
Date: Sat, 28 Sep 2019 08:47:52 +0400
Daleel-Deewania
Earthlink-Band-Clients
Sarmad H. Ahmed
EarthLink Ltd. Communications&Internet Services
Iraq
IMG-4.jpg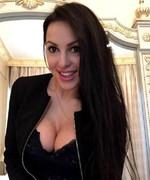 ....... Model Ирина Ириска Сергеева/Irina Iriska Sergeeva from Moscow
https:/ /model.zone/media/86a2f353e1e6692c05fe83d6fc79cf9d
iriska.sergeeva
.instagram.com/iriska.sergeeva/ ....... Private
https:/ /vkfaces.com/vk/user/id16397643
https:/ /vk.com/id16397643 ....... Private
https:/ /vklink.ru/id16397643