..... from DLB-Spam
Hello stranger!
It was surprisingly to receive a message from you with the offer to date. I didn't have to look man in internet. I have never registered in social networks and dating site. It's my work email!
I think that some of my colleagues used my email? This is not someone's stupid joke? You can not joke with feelings...
I don't want seem stupid, which responds to sentence stranger.
But I'm looking for the man of my dreams. And you can turn out to be him if you reply me!
If you do not answer, you'll regret it. Because you will not know how beautiful and perfect I am. I really am worth your attention. And I hope that you will correspond to me.
I am from Ukraine. From the beautiful city of Mariupol.
I'm 21 years old. I'm alone. I have never been married. I don't have kids. I am absolutely free and looking for my happiness. The choice is yours. Ask me questions, do not be shy. Give me see your foto and characterize you.
Received: from philrutterphd.com ([185.147.80.202])
From: Divnaya <
hewetri43734@philrutterphd.com
>
Date: Sat, 12 Oct 2019 11:47:14 -0400
MIRAN-VS-Net
Miran Net for VDS,VPS
Miran Contacts
PIROGOVSKAYA EMB 17 OF 205
St.Peterburg,Russia,194044
Image00091.jpg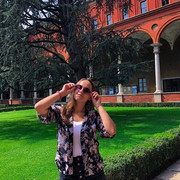 .... in the Background we've the Università Cattolica del Sacro Cuore - Catholic University of the Sacred Heart or Catholic University of Milan/Italy
Largo Fra' Agostino Gemelli 1, 20123 Milan, İtaly