.... from DMF-Spam
Hello.
How are you today? I wish all is prettygood.
I am writing this Mail and I wish that you arenormal man. This is not myfirsteffortto find someone in Internet. My previous connectionsturned out to be liars.
Building a realconnectionis my maina im. I take my chance even after all the fails. I will write a bit about my life.
I'm Svitlana. I was born and live in UA-ukraine, lately I've been supposing more and more about shifting my residency.
I'm already 35 years old, I understand that it is too late, my years arepassing. Hence, I do not have the capacity to playsilly games.
I'm educated and smart, kindperson, as well as a goodhousekeeper.
I work in dentistry.
I do not have any financial troubles.
This is theoutline of me. If our aimsfit, you canreply me. Correspond about youself!
If we are interested in each other, I assume we haveanability. Now the option is yours.
Please write to me on this mail
irrakuzzm@gmx.com
I will be looking forward for your letter. Svitlana.
Received: from [177.69.177.97] (177.69.177.97)
Reply-To: sveta <
orsa@mail.com
>
From: sveta <
dire-mario@tim.it
>
Date: Wed, 24 Jun 2020 15:27:29 +0400
AS16735
ALGAR TELECOM S/A
MARCOS SOEL FERREIRA
Brazil
r43.jpg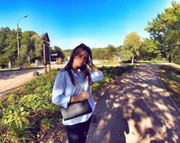 ... RPO is Model & Dentist Екатерина Сергеевна Терещенко/Ekaterina S. Tereshchenko - Стоматолог - Москва
https:/ /prodoctorov.ru/moskva/vrach/583006-tereshenko/
https:/ /galaktika.clinic/doctors/tereshchenko-ekaterina-sergeevna/
https:/ /dental.soc-clinic.ru/catalog/ekaterina-sergeevna-tereschenko_tlhv
.instagram.com/dr.katrine/