Hello my dear xxxxxxx!
How are you? I hope everything is fine and you've been waiting for my letter)))
Why don't you send me your pictures? Are you not interested or are you hiding something from me?
I ask you to send me as many of your photos as possible. I really want to know how you look. I hope to find some photos of you in your next email.
2 years ago I was in the USA and worked in New York. I really liked the US and I worked there for 3 months. I got a lot of useful knowledge.
I love dogs very much and I had a dog. But she died last year.
I also love sports and I love volleyball and often go to the gym. I don't know anything about American football, as this game is not common in my country.
I am very pleased to receive your letter. I hope that our correspondence will help us to create close and serious relations.
I want to tell you that I write my letters to you from work.
I spend too much time at work, so I don't need a computer at home.
Unfortunately I don't use WhatsApp or Skype, because I don't have a smartphone.
I do not need this, because once I registered on Facebook and I immediately began receive offers for sex and requests to send naked photos. I didn't like such attitude to me and I deleted my profile. Since then, I have no need insocial networks and a smartphone.
Yes, I have a phone, but it's a regular push-button phone. I can't put apps or whatsapp. The SIM card belongs to my clinic, so I can not receive calls from other countries or call myself. I will try to renew the SIM card in my name (I think it will take 10-12 days) and connect a good rate so you can call me. In the meantime I can call you from my clinic if you give me your phone number ????
In the morning on the way to work I thought – will I get your answer? I wonder whether you like my letter or not? Did you like my photos? And only yesterday, when I had returned home, I realized that I had told you just a little information about myself. Therefore, I was very glad to see your letter.
I will be very pleased if you send me some more photos of you, your home or friends. I'm interested in everything about you. I would like to know as better as I can.
So, now is my turn to tell about myself. I am the only and late child in the family. My father left our family when I was 7 years old. My mom died 2 years ago.
All these circumstances made me stronger. But I don't want to write about sad events now. After the death of my mom I feel very lonely because unfortunately I don't have a beloved man right with me. xxxxxxx, but I have a best friend. Her name is Yuliya. Do you have such a close friend with whom you spend your free time and feel comfortable? My relationships with one man ended six months ago. In Ukraine, most men see and want from me only sex. But as for me, the man should be not only a good lover, but also a friend to share the secrets, discuss the plans for future, everything that worries us the most and just have mutual understanding. Do you agree with me? Today I told her that I met you in the internet. She looked at me with surprise and told that meeting a man
in the internet is not my way of acquaintance. She was amazed. Then she said that there can be really serious and honest men in the internet, but I must be very careful because the internet is hull of gigolo and liars. Do you correspond with many women? You can give me an honest answer, I'll understand the situation, and I really hope that we are going to be honest to each other.
xxxxxxx I want you to know that age is not important for me, because I do believe that the human dignity is in a person's kind heart, honesty, responsibility for his actions and words and that he loves me. What can be more valuable? I have a well-paid job and I support myself quite well. Money for me is livelihood and a way to make our life brighter and full of unforgettable moments. What do you think of my way of expression? Do you like my personality?
Hope my letters are not boring for you ))))) Online dating is the first experience for me and I would like our conversation to be built as an interactive dialogue and I ask you to be honest and open in your thoughts and ideas. You can ask me everything you want to know and I promise to give you an exhaustive answer. Hope to get your answer as soon as possible…
I'm looking forward to hearing from you, Natalia
Received: from [192.168.122.6] ([185.167.96.98])
Date: Mon, 31 Aug 2020 09:55:59 +0300
From: Natalia <
khuanatafdok@gmail.com
>
CLOUDWEBMANAGE-EU
CloudWebManage-MNT
Kamatera Inc
Amsterdam, Noord-Holland
Netherlands
kay5w9WU.jpg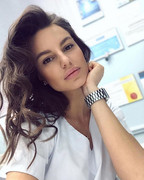 v1gSCyBm.jpg