..... so ... one chapter we've finished ... let's see, if we can get her other twins and split personalities too
..... don't know why "she's" pissed now
Dear xxxxxxx, I have no problem sending you a copy of my passport as I
understand the requirements that WU has informed you. I am sending you
a copy of my passport, it was not this that surprised me, but your
words at the end of the message "So I think you'll be cooperative coz
you need this money." You apparently did not understand, or I did not
understand you, is the meeting necessary only for me? According to
your words, I understand that the meeting is only necessary for me,
but if you do not need our meeting, then I will go and cancel
everything and I will not humiliate myself in front of you because of
the money because I want a relationship with you, but this proposal
that you said at the end surprised me ...xxxxxxx,I can't sleep up to the
late night because I usually think about you xxxxxxx,I think that it's
up to you to make plans and to inform me what to expect...I frankly
hope in our future, that your aims coincide with my. I consider that
it's impossible to be alone always,it's necessary to have such woman
with whom it's possible to talk smth about,who could help and be
pleased at you anytime:at difficult or happy minute.Somebody who will
take care of you, will meet you with prepared supper,will warm at
nights by warmth and love.xxxxxxx,just recollect me and my words to you
and I believe all troubles will be disappeared.xxxxxxx...Simply I'd like
to say that I thank the destiny that it has given me you honey.Each
your letter makes my soul and mood be in high spirits.I always think
of you no matter where and no matter what I do.Woman who entirely
devoted to you,Yuliya
Received: from [172.16.0.12] (5.61.37.207)
Date: Fri, 21 Aug 2020 09:38:06 +0100
From: Yuliya <
YuliyaSchitowa@outlook.com
>
3NT Solutions LLP
Leaseweb Deutschland GmbH
Frankfurt am Main, Hessen
Germany
IMG-19805.jpg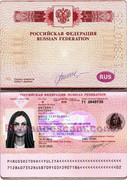 ..... Check not necessary coz this Passport was already used in 6 other Scams under 6 diff. Names!
Samokhina, Alina A. - Ukhta - RS

Maksimova, Olga S. - Saratov - RS

Dolmatova, Tatyana O. - Saratov

Purtova, Anastasiya E. - Ussuriysk - RS

Bezukladitsyna, Valentina V. - Kirov - RS

Bezukladitsyna, Valentina V. - Saratov - by the german colleagues!