.... she appeared today out of the blue in my DMF-Mailaccount, don't know her.
Hello
I am Viktoria. I'm searching for a serious relationship. you gave me your email earlier.
I want a strong relationship. to give all of myself to a man whom I can trust completely.
friends call me naive! But I believe that there is that man who shares my aspirations.
I poison you my photo. I hope that you are still interested in finding real happiness.
I'm serious here! I'm not for games here!
I will be waiting for your reply soon.
Viktoria
Received: from [172.16.0.4] ([188.143.235.83]) ... VPN-Proxy + reported as spam and brute force attacks
Date: Fri, 21 Aug 2020 02:45:28 +0400
From: "
dksvinea@gmail.com
" <
dksvinea@gmail.com
>
AnastasioGallo-net
dedicated server client
PINDC-AS
Petersburg Internet Network Ltd.
pinspb.ru
Sankt-Petersburg
Russian Federation
IMG-782654362.jpg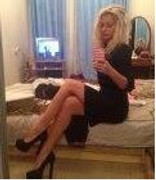 .... already reported with this Name & Emailaddy