.... from 419-Spam .... Pic give tons of Hits in Fashion pages but I'm more as sure that she's already here.
Hi. Merci, if I'm interrupting or distracting from important things. I hope you don't mind the fact that I wrote first. In the 21st century, women have become more likely to take the "first step".
What do you think about chat with me? I Want,think it's time to introduce myself. Let's start, my parents gave me a name Anna. I am from in Ukraine, in a beautiful city Odessa.
Where do you live? How far are you from Odessa? How is the situation with Covid-19 in your city? In my country, everything is gradually returning to the usual way of life and I hope that there will not be a "second wave of the virus".
I haven't been on vacation yet this year, and I still want to find that opportunity. How do you usually spend your holidays? I hope I confused you with my questions?
I am a sociable woman, and I am liked in making new acquaintances. I have a hunch that we might get to know each other. In any case, it is better to try than not to use this opportunity.
Am I right?! I like sports and a healthy lifestyle. Several times a week, I visit the gym. I have never smoked or used drugs, but I like to have a glass of champagne or good wine sometimes.
I don't judge people for their bad habits. In my opinion, everyone chooses their own fate, and is responsible for the consequences of their choice. I am a positive and purposeful woman.
I am 35 years old, but but thanks to my lifestyle, I feel much younger. I am single and never married, and I don't have a serious relationship.
I would like to meet a responsive and kind man who is able to listen to a woman and take care of her in a difficult moment. A man with whom you can not share news, and discuss any topics.
So far, I have not managed to meet such a man, but I don't despair, and I believe that it will happen.
If you are also lonely, and now you feel that my words have become close to you, write me your message. I will be glad to hear from you soon. Anutik.
Received: from iqrqth (unknown [178.176.175.239])
Reply-To: Anechka <
anna.min@medikom-ua.com
>
From: Anechka <
haldun.duman@emo.org.tr
>
Date: Sun, 6 Sep 2020 10:36:26 +0300
PJSC MegaFon
Volga Branch of OJSC MegaFon NOC
Volzhsk
Mari El
425049
Russia
IMG00026644.jpg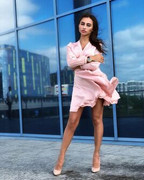 ..... almost the same crap here but edited in few Words
Anna D. Vakulenko; <
anna@liverua-market.com
>
https://www.romancescam.com/forum/viewt ... p?t=133500
.... thanx to the colleague
.... RPO is Model Mariya Aleksandrova/Мария Александрова from Sankt Petersburg
https:/ /vk.com/id593521247
https:/ /vk.com/jaaa_sexy
https:/ /vk.com/vk.com/id591242543 .... seems closed now since afternoon
.instagram.com/mary_alexandrova/
.instagram.com/mary_alexandrova_piar/
.fashionbank.ru/models/user/139471.html