.... she appeared today out of the blue in my 419-Mailaccount in german, don't know her.
Greeting. I am Oleksandra. I am 34 years old, I am from Ukraine.
You're cool let's be friends I'm sexy and nice. I am looking for a man for a serious relationship. I want to get to know you better and wait for an answer!
Write to this address:
oleksandrahoney@gmail.com
Received: from unknown ([::ffff:185.19.1.151])
From: <
tihayagavan@seznam.cz
>
Date: Thu, 24 Sep 2020 10:25:13 +0200 (CEST)
Tlapnet zakaznici 1
Tlapnet s.r.o.
Tlapnet
U schodu 122/5
190 00 Praha 9
Czech Republic
1.jpg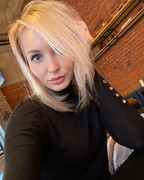 ....
RPO is Fitnesscoach Марина Симонова/Marina Simonova from Murmansk
https:/ /iprofiles.ru/marina-simonova/421314200/
https:/ /vk.com/id421314200 ..... 243 Pics .... July 2017
https:/ /vk.com/fm_lf ....... Fitnesscoach/Fitnessmaster Murmansk - пр. Кольский 178, Мурманск
.instagram.com/marina_igi/