.... from DMF-Spam and already well known in the Scene
Hey. I was lucky enough to write to you, please excuse me if I bother you.
Truth be told, I'm tired of my loneliness and I'm thinking of trying a dating profile online.
I hope that this act will become a new page in my future life.
My name is Julia.
I am sending you my photo, I hope you like it.
You are interested in me. I would like to know you better.
Sorry to write to your personal mail
I will be glad to see your letter
bye Bye
Received: from [192.210.236.179] (helo=qznww) by server199.hosting.reg.ru with esmtpsa
(TLS1.2) tls TLS_ECDHE_RSA_WITH_AES_256_GCM_SHA384 (Exim 4.94.2)
Reply-To: Julia <
liyu9915@gmail.com
>
From: Julia <
info@irinabalantay.com
>
Date: Mon, 24 May 2021 10:26:13 +0200
ColoCrossing
OrgId: VGS-9
Address: 325 Delaware Avenue
Address: Suite 300
City: Buffalo
StateProv: NY
PostalCode: 14202
Country: US
10.jpg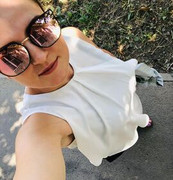 ..... Даша Кремер/Dasha Kremer - 24 года, Барнаул, Россия
http:/ /vkontaktebaza.ru/info.php?user=id152943740
https:/ /facevkontakte.ru/id152943740
https:/ /vkfaces.com/vk/user/id152943740
https:/ /vk.com/dashakremer .... 896 Pics .... from Aug. 2012 but less Pics since 2018, no Pics 2021
https:/ /iprofiles.ru/dasha-kremer/152943740/