.... from DMF-Spam
Hi! We don't know each other, but I hope to fix it. If you don't mind.
Recently,
On the Internet on a dating site, I left my profile.
And today I checked my email and saw your name!
If I understand correctly, are you also alone in active search?
But of course you don't have to answer. I don't know how I would react.
And in general, this is my first time getting acquainted on the Internet.
Oh yes, I'm Maru! Let's get acquainted!
I'm from Ukraine.
I'm 34 years old.
Looking for a man for a serious relationship. Of course, I am ready for a meeting by mutual consent.
But the distance doesn't scare me either. Still, we live in a modern world where trains run and planes fly.
Well, I do not know what else they say here in such cases. I don't want to play cat and mouse. I speak plainly.
I'm tired of being alone...
I'm sorry if I caught you off guard. If you don't want to get acquainted, just tell me about it. I won't be offended.
I'll be glad to meet you. Maru.
Received: from mgw-1.gconnect.ch (memail.gconnect.ch. [51.103.139.192])
Reply-To: Maru <
sunshinemari34@gmail.com
>
From: Maru <
esteli@schweiz.com
>
Date: Mon, 7 Jun 2021 14:31:14 +0200
X-Envelope-Sender:
esteli@schweiz.com
Microsoft
Divya Quamara
One Microsoft Way
Redmond, WA 98052
USA
JPG-0924.jpg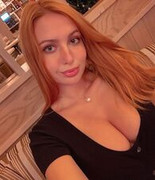 ..... RPO is Blogger Natalia Tsepkova from Moscow
.instagram.com/nataliaingrapes/
https:/ /onlyfans.com/nataliaingrapes ..... Nude and sexy photos and videos
https:/ /twitter.com/nataliatsepkova .... Russian instagirl .... Oct. 2020
Наташа Цепкова(Абашкина)/Natalya Zepkova (Abachkina) - Moscow - married
https:/ /vk.com/natali_abashkina ..... 4785 Pics
.instagram.com/decently_tus/
.instagram.com/russiangrapes/
https:/ /celeb.tv/nataliaingrapes
https:/ /t.me/nataliaingrapes
https:/ /vk.com/nataliaingrapes
..... nice to be so communicative with social media pages