Military scam in Ukraine TV-News
Posted: Fri Dec 01, 2017 1:44 pm
Yesterday was shown in the Ukraine News a Military Scam at 7:30pm. A Woman from Poltava lost lots of Money in the fake US-General Jon Lord Michael . "He" wrote her Letters in broken english and with lots of compliments. He promised to visit her, surprised her with jewelry worth 100.000$. All should come over a "Diplomat" Fred Bauman who was arrested from custom. He arrogated bribe from her (2500$). She looked for that money and have taken credit from Bank and the money should go to Elena Valerievna Shatillo (customs officer)
After she noticed that she was fooled, she have a taken a job as cashier, sold her house out of town to pay back credit.
She wrote to the Police but no chance to get the cheater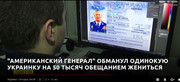 https:/ /ru.tsn.ua/ukrayina/amerikanskiy-general-obmanul-odinokuyu-ukrainku-na-50-tysyach-obeschaniem-zhenitsya-1052440.html
...... by the way, we've this General also here in a report from Bix. After this Report in TV I've marked the Posting and moved to "Military".
viewtopic.php?t=109400