An American woman lured to Nigeria by a promise of marriage from a man she met on Facebook has been rescued after being held captive for more than a year, police say.
The 46-year-old was held against her will in a hotel room in Lagos.
The suspect Chukwuebuka Obiaku, 34, "took control" of the unnamed victim's credit and debit cards, and retirement benefits, according to the police.
Over a period of 15 months she was forced to part with $48,000 (£38,000).
The victim is a retired civil servant from Washington DC.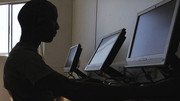 for entire article
read here
https://www.bbc.com/news/world-africa-53390397