Pictures stolen from US Army SGT Jennifer Holt, see more info below.
Hi
Hello my dear my name is, Henrietta Alexander, I'm a good woman lovely and caring,
I'm new in this social media dating site to seek for real man, I'll spend the rest of my life with, Please my dear with all due respect, I'd like you to Reach me with my address, I have something important to tell you.
(<henriettaalexander
40
@
gmail
.
com>
Best regard.
HenriettaAlexander
Henrietta23
Gender: Female
Age: 32
Sexuality: Bisexual
Looking for: Marriage
Country: Germany
State, City: bangkok
Marital status: Single
Children: I don't have children
Last visit: Within 24 hours
Profile Information: More Profile Information: Lifestyle
Height: 4'7 (140cm) or below
Body built: Athletic
Ethnicity: Native American
Religion: Christian
Education: Professional
Occupation: Military nurse
Personal Description:
Hello my dear my name is, Henrietta Alexander, I'm a good woman lovely and caring,
I'm new in this social media dating site to seek for real man, I'll spend the rest of my life with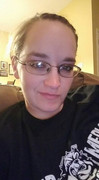 IP: 77.111.245.10
ISP: Opera Software AS
Services: Network sharing device or proxy server
Recently reported forum spam source. (35)