pictures are stolen from a military man Aaron R., see below
Badoo.
James, 39
On the site now!
Wants to make new friends
New York, NY, United States
Personal info
Languages:
English
James — 06:32 AM
hello sweetie im james and i really wish to know more about u if u dont mind. i believe u gonna be a good woman. im new on here and i wish we can talk on here much better but i dont really stay on coz of my job. here is my yahoo id for better conversation jamesrubin40 at yahoo dot com thanks sweetie, cant wait to chat with u.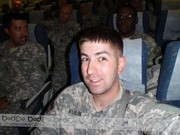 Facebook, 4 friends. No further information.
http://www.facebook.com/rubin.james.77?fref=ts
" onclick="window.open(this.href);return false;