Pictures stolen from an unnamed Australian man, Melbourne area, see pg. 24.
WARNING: SCAMMERS HAVE IN THEIR POSSESSION A RECORDED WEBCAM OF THIS MAN!! IF YOU "SEE HIM ON CAM', IT IS NOT THIS MAN "LIVE" YOU ARE SEEING, BUT A RECORDING. IF YOU ASK A SCAMMER TO WRITE YOUR NAME ON A PAPER AND SHOW IT IN CAMERA, HE WILL REFUSE, OR HIS CAM WILL "BREAK" RIGHT AT THIS MOMENT.

ALSO, THIS MAN IS NOT IN THE MILITARY! HE IS A CIVILIAN. ALL PICTURES OF HIM IN A UNIFORM ARE PHOTOSHOPPED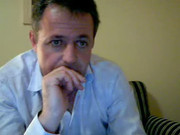 Also
ID=165003
richardterry92
- 47 y/o male
- london, United Kingdom
Interesting script below...obvious they dont read the stolen copy&paste! If you google it ...it leads to the original profile on connectingsingles!
large man, recent amputee, right leg, below knee. happy go lucky, comfortable being me. enjoy good company, good wine, meals out, weekends away. enjoy driving my cars. love the countryside. adore my dog. i like meeting new, interesting people. i hate windy days.but i love devon, even when it's pissing down! i enjoy my life as best i can, comfort is my thing, no camping. i like to bath luxuriously every day, with lashings of hot, running water. i love clean fresh bedding. my swampy days are a distant memory. just getting ready to enjoy nice weekends away this winter. summer was rubbish! i do love hearing the logs crackle away on the fire, in a nice country hotel
open minded, attractive person who enjoys at least some of the things i do. likes good food, travel, music, animals. dont think i'd get on too well with vegetarians, i like my steaks and casseroles, and it takes a better man than me to resist the temptation of a bacon roll. someone who enjoys the outdoors, in most weathers, i like people who are naturally funny, not those who try to be. cos i'm bloody hilarious
Junk Message
Hi, How are you doing? l hope great. Well, l'm Richard Terry from UK. l saw your profile so interested, you look so young and romantic. l would like to get in touch with you also chat with you someday, please could you reach me with your email address, so we can know more about each other. you can reach me too at
richardterry92@yahoo.com
i am waiting to hear from you soon! take care
Richard
also uses...
larrysmith4210@yahoo.co.uk