Pictures stolen from LTC David Dosier, see below.
scammer on page 3
matchdirect.com
mackanthony60
Durham • North Carolina • USA
49 years old
Widowed, seeking woman 40 - 99
sex man
status Widowed
education College Degree
ethnicity Caucasian/White
ABOUT ME
I love honest people and i hate lie's
I am supportive and caring and have a loyal and tolerant character's very humble, honest, understanding and truthful. I'm a very passionate, physical person that would want the same in a mate, deeply romantic, optimistic, hopeful, wise, smart./ / I have a good, honest heart and don't like being lied to. I don't need to be buttered up. If you are straight with me from the get-go, I'm more likely to grow to care for you. If I can't tell where you are coming from and what is that you really know more about me. yourself, then it isn't likely to go anywhere further than this page.
WHAT I'M LOOKING FOR
i am looking for a lovely woman who will love me and love my son as her own......i am not looking for a perfect woman but someone who will love me for me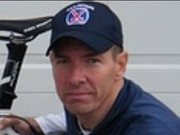 To
mackanthony60@yahoo.com
Opened 2013/07/24
Location
Lagos, Nigeria
(86% likelihood)
Opened on (41.203.67.51:13924)